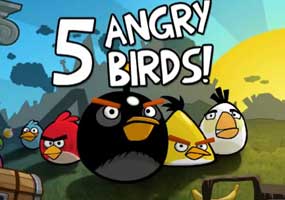 Some time ago a number of Nintendo executives say that, cheap games on mobile platforms do not just pursue quantity and quality, including Angry Birds. Well now turn Rovio who spoke.
Satoru Iwata, Nintendo president, could say in the event the Game Developers Conference about his response to the game in mobile phone penetration jejering smart and social. For him, the game on that platform has a different vision with Nintendo.
"The goal of smart phone games and social networks do not like us, they just pursue quantity rather than quality," said Satoru at the time.class="fullpost">
In harmony with the statement Iwata, Reggie Fils Aime as president and chief operating officer of Nintendo America say it was not interested in line with Nintendo's mention of a mini game developers. Again, this statement is intended for class game developer Rovio.
"It is interesting to know the opinion of Nintendo's top brass who said the smartphone destroying the gaming industry. But in my opinion, we have been in the right way," said Peter Vesterbacka, pembesut Angry Birds from the Rovio.
Angry Birds is a game that is loved. After the success in the mobile gaming platform is constantly expanding to Facebok, game consoles like PlayStation 3 or Xbox 360, and PC. Even up to now Angry Birds including one game with the largest income.