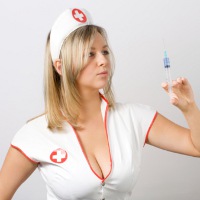 London, As judged too sexy, uniforms nurses in England will begin to be disciplined. Severe restrictions will be applied to collars that are too low, because it makes too prominent cleavage and could be 'dangerous' patients.
As thick as 6 pages of rules are made by health regulatory agencies in the UK after receiving many complaints from patients. In addition to cleavage of the nuns are too low, patients also complain of doctors who wear tight shirts so that his belly looks.
"Already there are some patients who complain. This policy has actually been around a long time, now just want it confirmed," said Hannah Middleton, one of the officials at NHS Trusts, as quoted by the Telegraph, Friday (17/06/2011).


Some nurses assess indeed there is nothing new in this rule, because the prohibition to dress sexy uniform guidelines already exist in the current. Only in certain hospitals only instance in the Lister Hospital, nurses wore uniforms with cleavage exposed.

Likewise, visitors to the hospital, are all concerned about the nurses outfit. As long as not to endanger the safety of patients directly, there are also visitors who consider clothing that is not just a trivial problem to be exaggerated.

"As a man, my attention must be diverted if the nurse who saw her cleavage look. But I think it does not matter as long as she can still work properly," said Ian Wheeler, a man of 65 who accompany her for a month while being treated at the Lister Hospital.

But the new rules that have been approved since March 2011 this was not intended only for the nurses. Doctors, administrators and other employees who work in hospitals must comply if it does not want to get disciplinary action from the NHS Trust.

Some of the restrictions set forth in this regulation, among others uses too short skirts, jeans, shirts and tight leggings. The entire health care workers and hospital employees, especially the women are also prohibited from wearing a ribbon or excessive hair accessories.

For the doctors, nurses or male employees, beards and mustaches must be maintained to keep it clean and tidy. Cleanliness in general should also be maintained, including by ensuring there is no smell of cigarette smell on clothes or breath while speaking.